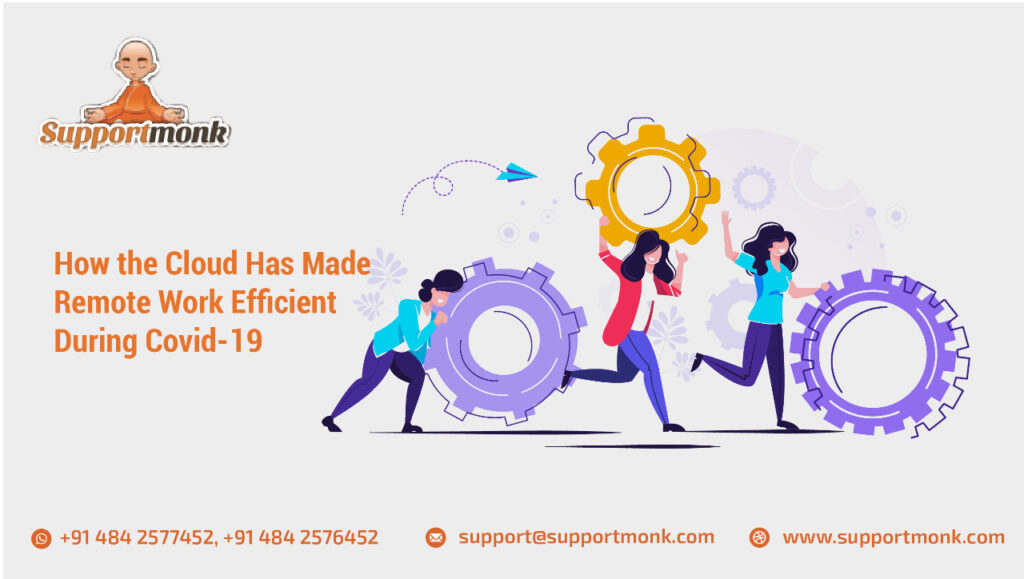 During the current Covid-19 pandemic, which has hit the world so adversely, economically, and socially, the remort work has become a common working pattern for the IT field. The only way out of this situation is to stay safe and isolate yourself within the safety of your home. The majority of organizations have opted to adapt work from home mode to keep their business running. Companies try various solutions and tools to efficiently manage the processes and teamwork. And indeed, cloud services come to the rescue in this context. 
Many latest applications emerged during the corona pandemic to help companies to connect with the clients and employees and to manage and deliver the work. But the backing power behind all these technologies is the cloud. Let's briefly see how cloud solutions help organizations to manage remote work efficiently.
Cloud provides a virtual environment where companies and clients can communicate and collaborate in the same way as if working from an office. It also offers absolute flexibility as employees can be at any location in the globe, but can assess data, tools, and files from a centralized server. Flexibility time, location, IT infrastructure, and 24/7 access have made cloud services an important solution for efficient remote work.
The biggest threat for organizations in remote work is reduced data security. Office systems are connected to an internal server and which will be protected by high-end security systems preventing unauthorized internal or external access. But this security cannot be assured when a large number of employees working at homes on their own computers, connecting the data via various ISPs. Cloud services come for help here as they allow employees to connect the office data via a secured and centralized server which is multiple times more secure than the office servers. Every data transaction is verified and recorded to ensure absolute data security.
A big hurdle while remote work is to avail access to tools and heavy data files. Employees cannot install all the required tools in their personal computers as some of them are so heavy beyond the capacity of a home computer. Cloud solutions like Support Monk, one of the best managed cloud support services in Kochi, offer all the tools available in a centralized server which employees can access as and when they need it.
While remote work data transfer is limited to the speed of employees ISP. But when data transfer is applied via a cloud solution, an unlimited size of data can be transferred to the client within no time. Cloud solutions redefine the data transfer as with cloud employee and client is accessing data in real-time on a cloud.
It has been proved that remote work boosts employee productivity. Work from eliminates tiresome up and down commuting, busy traffic, strict office timings, etc. employees can complete their tasks when they feel good at the warmth of the home environment. They can save a lot of time which otherwise would have been spent on traveling.
Cloud solutions are cost-effective as it requires minimal plan cost to cloud service providers. Remote work through a cloud server saves you the expenditure to manage dedicated IT infrastructure, office management costs, etc.
Support Monk, a leading cloud service provider offers the best managed cloud support service in Kochi. Their futuristic solutions are helpful for organizations to effectively manage remote work.