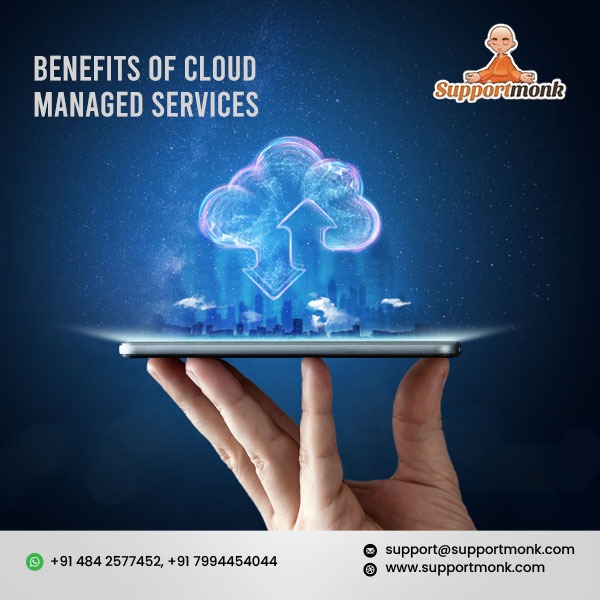 Data is the new 'gold' and safeguarding data from thefts and other breaches is the pressing priority in the current marketplace. Cloud-managed service is a third-party mediator that gives a helping hand to run uninterrupted business operations.
Cloud services are already popular and in-demand that which was $27.15 billion in 2017 and is expected to reach $53.78 billion over the coming year.
Merits of deploying cloud managed services
Enhances security and meets compliance requirements: Security and compliance are the most sensitive concern for any business enterprise. Cloud sustains a secure environment in both hardware and software by providing umpteen tools, applications, and encryption. Cloud infrastructure also helps comply with the rules and regulations thereby meeting the needs of the clients. Maintenance of security and compliance is made effortless with the best-managed cloud computing services in Kochi.
Delivers services and applications as promptly as possible: Optimization is another concern that needs to be looked at. Cloud-based or managed services operate in such a way that they either function independently of each other or merged with other services and applications. These services model and examine the overall patterns of each workload, right from the history to usage and the operational costs to give guidance and make proposals to upgrade workload to service matching, Cloud services assign you with meticulously arranged resources in order to gain efficiency and accelerate your business.
Improves and optimizes workload performance: Cloud services have opened the gates for hyper-performance, optimization, and uninterrupted resilience. The best-managed cloud computing services in Kochi protects and boosts workload performance by diminishing software attack surface with suitable security configuration, by exposing software vulnerabilities and monitoring administrative access.
Mitigates capital expenditures: Cloud-managed services are a modest investment. It helps you avoid costly mistakes. You only need to pay for the service or application that you utilize. Cost efficiency is at best in employing cloud-managed services as they aid massive scalability to achieve periods of demand by obviating prolonged duration of under-utilized IT capacity. Cloud services enable business firms to organize and run an on-premise IT infrastructure which in turn reduces and eliminates cost. By engaging the best-managed cloud support services in Kochi, you can save your time and money which are the essential necessities in today's business.
Disaster recovery support: Though cloud-managed services take guard and ownership in alerting and protecting you from cyber thefts and attacks, a backup plan is a must when things are dealt with online. Here again, cloud services possess the feature of disaster and recovery support, just in case a disaster or unpredicted failure strikes. Cloud services can take control of the entire business through data governance.
Final thoughts
Cloud-managed services add a new dimension to the enterprise and its services. The best-managed cloud computing services in Kochi set up a collaboration between the business organization and the service provider in various locations. The functioning of an enterprise and keeping up with the customer demands is safe with cloud-managed services. Cloud-managed service is a bulwark against data breaches and other unauthorized intrusions.